Pools of water on your lawn are an ugly and unwanted sight. A weak drainage system can create all kinds of damage to your lawn. When water stands in your yard, it can drown and kill your grass, flowers, and other garden life. Pools of water can also be a health hazard, a breeding ground for disease carrying larva and insects, such as mosquitos. And, poor drainage can also lead to a homeowner's worst nightmare: a basement filling with water! If you have an uneven yard, you might be at potential risk from a poor drainage system. Standing water in your yard can kill your grass and other plants, ruining your landscape. It can also be a health hazard, harboring mosquito larvae and other pests. Having an efficient drainage system installed under your lawn is critical to keeping your home dry and your lawn looking great.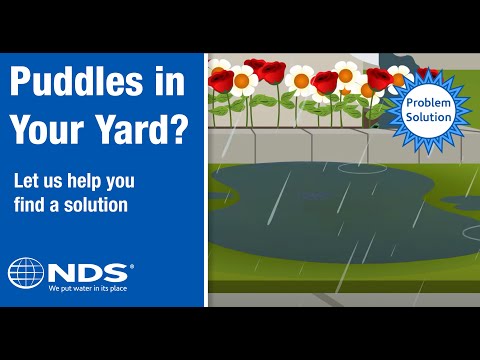 We are proud to use and supply NDS drainage systems. We suggest either Flo-Well or EZ-Drain to protect water from pooling in the low spots in your hard. There is an excellent NDS  NDS video library available online for free, and we strongly suggest you watch a few of these short, informative videos to get an idea of what our service can do for you.
Fees vary based on size, location, and other obstacles. Please contact us to request a free estimate!